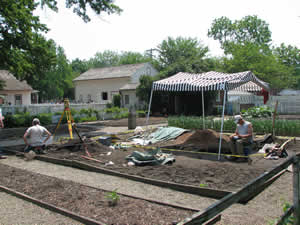 Old Economy Village, Beaver County, PA

In 2007 Heberling Associates undertook extensive archaeological and historical investigations at the Great House Garden, Old Economy Village, Ambridge, Pennsylvania. Old Economy Village was the third and final home of the Harmony Society, a nineteenth century utopian community known for its piety, industry, and business acumen. Under the leadership of Father George Rapp, the Harmonists enjoyed a long period of prosperity and industrial success following their relocation to Economy in 1824. However by the end of the nineteenth century the Society was in decline, and it finally was dissolved in 1905. The Commonwealth of Pennsylvania acquired the administrative core of the community, and the site has been administered by the Pennsylvania Historical and Museum Commission (PHMC) since 1916. Accurate restoration of the Great House Garden, the physical and spiritual heart of the community, has long been a goal of PHMC.

Heberling Associates was part of a diverse team of archaeologists, historians, landscape architects, and horticulturalists headed by Perfido Weiskopf Architects/Noble Preservation Services, Inc. Joint Venture. The team was responsible for developing a comprehensive Historic Landscape Study of the Great House Garden. The goal of the archaeological and historical studies was to gather information to assist in the accurate restoration of the garden to its appearance during the heyday of the Harmony Society in the early nineteenth century.

The 2007 study by Heberling Associates represented a thorough integration of cartographic, photographic, archaeological, and archaeobotanical data, resulting in the most comprehensive examination of the Great House Garden to date. The principal goal was to gather historical and archaeological information to guide the restoration design, including confirmation of the original function of each quadrant and the locations of important landscape features. A secondary goal was to identify areas of special archaeological sensitivity in order to guide future management decisions at the site. Over 100 archaeological features were identified, including paths, planting features, trellises and arbors, and structural remains. Although the emphasis of site restoration and the focus of the restoration was the Rapp era (1824-1847), the study identified significant archaeological resources dating to all periods of the site's history, including the prehistoric era.