Benner Township, Centre County, PA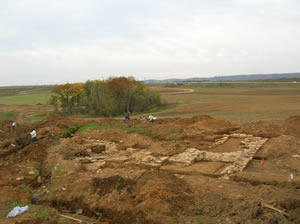 HAI helped the Centre County Industrial Development Corporation (CCIDC) to evaluate the effects of its planned Benner Commerce Park near State College, Pennsylvania, on historical and archaeological sites. The project was funded in part by a grant from the Economic Development Administration (EDA). The 82 acre tract was historically a part of a large farm and rural industrial property that included an iron furnace and related mines and ore-processing facilities. HAI conducted an assessment of the farm that established its historic boundaries and documented that there would be no visual or audible effects to the core of the property. Archaeological studies, however, demonstrated that the project would adversely affect a major nineteenth century industrial facility associated with the extraction and processing of local iron ore.

Intensive excavation of the site revealed the remnants of an iron ore washing plant. Documentary research by HAI archaeologists and historians linked the site to the mid-nineteenth century operations of the Valentines, a locally prominent family engaged in a variety of industrial activities. The Valentine brothers were innovators in ore mining and processing technology, developing an ore-washing technique still used today and employing artesian wells to provide water to the mining site. The combined innovation of the log washer supplied by artesian wells allowed the extraction and processing of the ore to occur at the same location and obviated the need for ore washing facilities to be situated near streams. The techniques were rapidly adopted throughout the United States and elsewhere. The Benner Commerce Park site represents one of the first—perhaps the first—application of this major technological innovation with national and worldwide significance.

HAI worked with the CCIDC, EDA, the Pennsylvania Historical and Museum Commission, the Centre County Historical Society, and other local interested parties to craft a program of public education about this unique site and its significance.