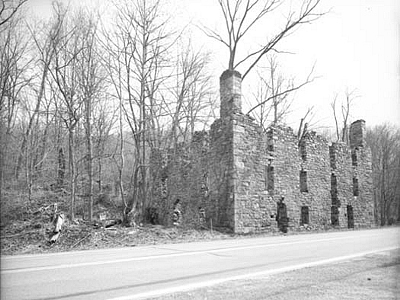 Cromwell Township, Huntingdon County, PA

Over the course of nearly a decade, Heberling Associates conducted a variety of intensive archaeological and historic structures investigations in connection with improvements to a 1.25 mile section of S.R. 522 at Blacklog Narrows in southern Huntingdon County. We performed this work in association with KCI Technologies, Inc. and the Pennsylvania Department of Transportation, District 9-0.

The Blacklog Narrows was the location of a major early nineteenth century industrial complex that included two charcoal iron furnaces, an associated grist mill, a quarry, and workers' houses. Phase II archaeology focused on the two furnaces and two prehistoric sites and resulted in the demarcation of a National Register historic district encompassing the industrial complex. The Shade Gap Branch of the East Broad Top Railroad, surveyed as part of the project, was determined eligible for listing on the National Register. 

Phase III (data recovery) historical archaeological studies were performed at the Winchester and Rockhill iron furnaces, along with recordation and archaeological data recovery at the grist mill site. Consideration of cultural resources at an early stage in the planning for this complex project minimized delays and costs that might otherwise have been incurred during a later stage.

The museum professionals at HAI also produced a traveling exhibit interpreting the Blacklog Narrows Historic Industrial District, the Central Pennsylvania charcoal iron industry, grist mill operation, and the archaeological investigations at the sites. The exhibit traveled to various venues in the county and is now permanently housed at the Orbisonia-Rockhill Furnace Historical Society near the historic industrial area.

Heberling Associates, Inc. and PennDOT District 9-0 received the 2007 Pennsylvania Historic Preservation Award, presented by Preservation Pennsylvania in partnership with the Pennsylvania Historical and Museum Commission for the archaeological excavation, research, and historical interpretation of the two charcoal iron furnaces and gristmill complex in the Blacklog Narrows.