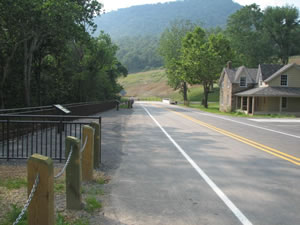 Mifflin and Juniata Counties, PA

Under contract to the Pennsylvania Department of Transportation, District 2-0, Heberling Associates, Inc. performed extensive cultural resource studies in connection with the Lewistown Narrows project, which reconstructed a 10 mile section of US 22/322 along the Juniata River between Lewistown and Mifflintown, Pennsylvania. Historic resource investigations focused on the Juniata Division of the Pennsylvania Main Line Canal, which parallels the river and highway through the Narrows. Studies started with a comprehensive survey and inventory of the canal resources, with identification of contributing and noncontributing sections. We worked closely with the engineers to minimize impacts on contributing sections. Because impacts could not be avoided completely we developed a mitigation program with three parts: Historic American Engineering Record documentation of the canal remains; development of a public canal park encompassing a large canal section that would not be affected by the project; and preparation of a Byways to the Past booklet for public distribution.

The canal park was funded by the Federal Highway Administration and PennDOT, and designed by the EADS Group, Inc., and Heberling Associates, Inc. After its completion it was transferred to Mifflin and Juniata Counties, which now jointly own and operate the facility. The park features 1.5 miles of intact canal with a cluster of canal features at Macedonia Run, including former Lift Lock #13, an adjacent stone house which once housed the lock-keeper as well as the office of a local iron-mining company, a pond and spillway system, and a waste weir. The lock and the adjacent section of canal were excavated, documented, and stabilized, following the Secretary of the Interior's Standards for Rehabilitation of Historic Properties. The stone house was rehabilitated for future use as a museum or office by the two counties. The park also includes a picnic area; a series of interpretive exhibits; and a towpath hiking trail extending 1.5 miles upstream to a new Pennsylvania Fish and Boat Commission access area.