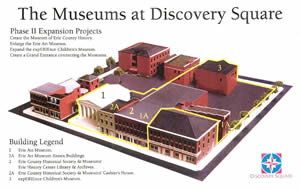 Erie, PA

When the Erie Coalition of Historical Organizations (ECHO) in Erie, PA decided to conduct a collections needs assessment of the historical and cultural collections associated with multiple institutions and facilities, they called upon the museum professionals at Heberling Associates, Inc.

Heberling Associates' staff 1) evaluated five major historical and cultural collections, 2) visited five other smaller collections to assess the range and state of public collections available in Erie, 3) established priorities for the care, management, and interpretation of the collections individually collectively, and 4) recommended strategies for staffing, managing, funding, interpreting, storing, and publicizing the collections.

As a broader goal of the project, we wanted to provide information to assist the members of ECHO and other interested parties in making informed decisions concerning the preservation of their city's two- and three-dimensional historic artifacts. The study included documentary research, site visits, professional consultations, public presentations, and review of community promotional and demographic literature.

Erie City and County are actively promoting cultural and heritage tourism opportunities in the northwestern Pennsylvania region. An ambitious part of the plan has been the development of Discovery Square, an innovative concept to connect the five historic buildings owned and occupied by the Erie Historical Society and Museums, the Erie Art Museum, and expERIEnce Children's Museum. Since all of the existing structures are located in the same block in downtown Erie, the original plans called for new construction, including a common entrance, museum shop, exhibit galleries, other public spaces, and state-of-the-art collections storage, that would link them in a "cultural marketplace" setting.