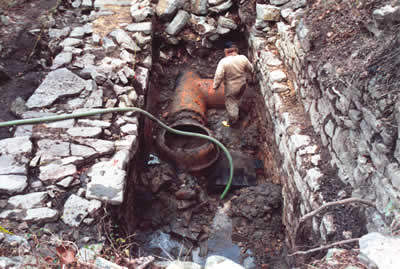 Heberling Associates, Inc. and PennDOT District 9-0 received the 2007 PennsylvaniaHistoric Preservation Award for the Blacklog Narrows at U.S. 522 project near Orbisonia, Huntingdon County. This award, presented by Preservation Pennsylvania in partnership with the Pennsylvania Historical and Museum Commission, honored Heberling Associates for their archaeological excavation, research, and historical interpretation of two charcoal iron furnaces and a gristmill complex in the Blacklog Narrows Historic Industrial District of southern Huntingdon County. The cultural resource work was part of a long-term PennDOT District 9-0 highway improvement and bridge replacement project on U.S. Route 522.
Scott Heberling, Heberling Associates' project manager for the Blacklog Narrows effort, accepted the award at a special ceremony held in Harrisburg in September of 2007.
The photograph above records the interior of the Cromwell Grist Mill after excavation showing the intact turbine housing and tailrace. The ruins of the mill building were dismantled following excavation, and the site was covered by new highway construction.
For more information: Industrial Archaeology in the Blacklog Narrows